February 24th – 26th, 2023
Radiant is a retreat that gives young women a chance to escape from the pressures of teenage life and spend a weekend in the presence of the on who provides identity, radiance, and beauty; Jesus Christ. We believe that there is great value in young women hearing teaching from female leaders. Young women who come to Radiant will leave feeling refreshed, confident, free, beautiful, and valued.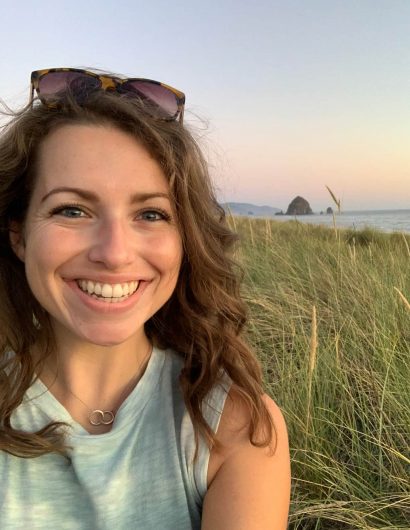 Speaker: Abigail Walker
Bio: Abigail Walker is currently living in Smyrna, GA with her husband Andrew. She has an acting degree from the University of Arizona, a Masters degree in Psychology from Grand Canyon University, and is currently working towards her certification in Biblical Counseling through ACBC. 

Abigail loves to go on runs, enjoy coffee with friends, and she never says no to a cheeseburger. But her favorite thing to do is sit and talk about the Bible and about the goodness of the Lord. 
Worship Leader: Kelly Parks
Bio: Kelly currently serves as the Women's Shepherd for Worship Ministries at Fellowship Fayetteville in Northwest Arkansas. She is also a singer/songwriter who is content spending her days strumming a guitar and watching different word possibilities pop up on her thesaurus app. She is married to Aaron Parks, and has found great joy living life and serving by His side. They are raising four boys that range from the age of 5 all the way up to 16.

Kelly is most likely to break something in a Hallmark store and most likely to misunderstand an obvious nonverbal cue. When she gets a free weekend she is happiest out on a hiking trail, playing a strategy board game, or consuming Thai Food with friends.
February 24th – 26th, 2023
Girls 6th grade – 12th grade 
. The cost is $119 per person
. Cost includes meals, lodging, and activities 
What does a typical schedule look like?
Friday – February 24th 
6:00 PM       Arrival, Check-In  
8:00 PM       Worship Service  
9:30 PM       Group Time 
10:00 PM     Dessert in The Hub (Two Canoes Open) 
11:00 PM     Flush & Brush 
11:30 PM     Lights Out 
Saturday – February 25th 
8:00 AM      Breakfast 
9:00 AM      Morning Worship 
10:30 AM    Group Time 
11:00 AM    Group Activity 
12:00 PM    Quiet Time 
12:30 PM     Lunch 
1:30 PM       Breakout Session 1 
2:15 PM       Breakout Session 2 
3:00 PM       Breakout Session 3 
3:45 PM       Breakout Session 4 
4:15 PM       Free Time 
5:30 PM       Dinner 
7:00 PM       Evening Worship  
8:30 PM       Group Time 
9:30 PM       Pajama Party  
11:00 PM     Flush & Brush 
11:30 PM     Lights Out 
Sunday – February 26th  
8:00 AM       Breakfast 
9:00 AM       Morning Worship  
10:30 AM     Load & Leave 
Clothing:
Shirts (short/long sleeve, weather dependent)

Pants

Socks

Underwear

Tennis Shoes

Coat or Jacket

Raincoat or Umbrella
Bedding:
Sleeping Bag or Twin Sheets & Blanket

Pillow
Toiletries:
Deodorant

Toothbrush

Toothpaste

Soap/Shampoo/Conditioner

Shower Shoes

Towel
Must Haves:
Bible

Notebook

Pen or Pencil
Cell Phones (see policies)

Music Players

Handheld Gaming Devices

Alcohol

Tobacco

Recreational Drugs

Firearms

Knives

Fireworks

Two-piece swimsuits (gals)

Speedo swimsuits (guys)

Pets